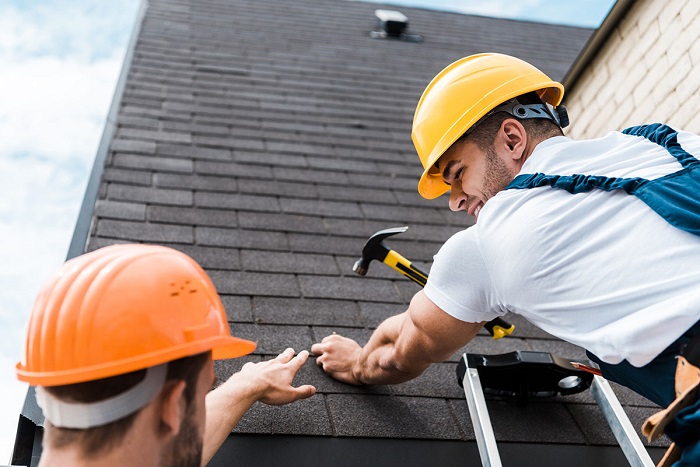 Clermont FL Roofing
License Roofing Company in Clermont, Florida
Vetcon Construction Services, Inc is the ultimate destination for roofing in Clermont, Florida. As a Disabled Veteran Owned Business, we have a no-nonsense approach to delivering top-quality roofing solutions, such as installing metal roofs, roof repair, inspections, etc. for all your needs. When you set a project deadline with us, consider it fulfilled! There is no compromise on the delivery. Our expertise in the rules and regulations also ensures that you do not have to worry about compliance issues.
Do you want to renovate the roof of your house or build a new one? Do you feel the roof in your commercial property is falling apart or is out of style? No matter what you are looking for in terms of roofing in Clermont, we have you covered. We believe in going the extra mile for our clients' satisfaction by providing routine maintenance, repairing, and even checking your roofing quality.
A major highlight of our service is that we have the best people with the right tools. We can also build custom window frames for your house or commercial property that will elevate its look. We have thrived for twenty-five years, and are the only roofers in Clermont to tailor our work to your needs and budget. Unsurprisingly, we are the top roofing company in the area.
Don't waste any time and sign up for a free consultation and take your roof game to be on par with the best industry standards.
Clermont FL Roofing Contractor
Over the years, we have perfected the art of roofing. We believe in perfection and professionalism to the fullest extent. As a licensed Clermont Florida roofing contractor for roofing and home building, we have developed a reputation as a company that prides itself on the superior quality of work and unparalleled customer satisfaction.
We cater to all types of residential and commercial properties located in Central Florida and adjoining areas. Hundreds of happy customers swear by our brand even today. We take our customer's needs seriously. As a result, we have emerged as the go-to roofing contractor for many when it comes to laying roofs on homes and businesses.
The moment you sign up for our services, you will realize how we stand out from other companies. Being a Disabled Veteran Owned Business from Clermont, we don't take our responsibilities lightly. We persevere every day to meet your demands. Our team of roofing-specialists will ensure that you get all your questions answered and get the roofing you deserve.
We can truly deliver on all fronts. Our company can handle your needs for shingled roofs, built-up roofing, commercial roofs, TPO roofs, windows, and doors. What sets us apart is that no matter how big the undertaking, we don't cause delays or excuses. Our capable workforce will make sure that you get the service that you desire.
Vetcon Roofing Inc. is the right choice for all your roofing needs. Click on the 'Services' section of our site to learn how we tailor our work to meet your needs to perfection.
Affordable Roofing Company Clermont FL
What sets Vetcon Roofing Inc. apart and makes it a class act? What has kept us as a leading force in the roofing business for the last twenty-five years? One aspect that has defined our work is the lack of compromise for quality and customer satisfaction. We do the best job at roofing and creating custom windows in central Florida.
Our reputation has followed us to Clermont, FL as well. One of the significant aspects of our services is that it is for just about everyone. No matter what your budget or needs are, we have a suitable solution for you. We have services that can be customized if your resources are small. If you have an extensive task for us, you can count on us to get it done within an agreed time frame.
We will closely work with you during roof installation, repair, and maintenance, guaranteeing your residential roofing highest quality workmanship. We are also one of the few companies that can do a terrific job of installing a metal roof for you. You will see for yourself how your property value increases, and the roof lasts a lifetime with our metal roof installation. Consider the protection from storms as an added benefit.
For every roofing need, we are here for you. As a testament to that, we offer maintenance and inspection services at an affordable cost to prolong your roof's life.
Why wait till your roof collapses to get it fixed or changed? Reach us now to get a free consultation!
Coverage Areas
Serving the including the following Cities:
Book With Us